Guided Setup with the
OzTiVo1.6 Install Image
Introduction
This document describes the Guided Setup process for OzTiVos using the OzTiVo 1.6 Install image. This only covers the actual Guided Setup: for all other details about imaging a hard drive and getting your networking going, please see the
PrepareTiVoDisk
and
NetworkingHowto
documents.
Also read though the KnownIssuesCurrentImageRelease document which covers any known issues since the last image was made. It may cover issues that need to be dealt with before running through this guided setup.
Booting the OzTiVo
Note for CacheCard users. When you boot the OzTiVo for the first time you will see messages on screen saying a kernel error has occured. This is normal as the CacheCard was designed to be installed into an already running OzTiVo, not a fresh install. The files required will not be written until you finish Guided setup. The CacheCard will still work correctly as a network card and in reality it is just safe to ignore the Error.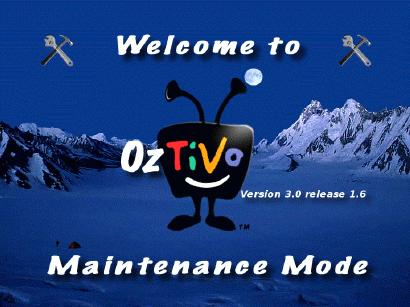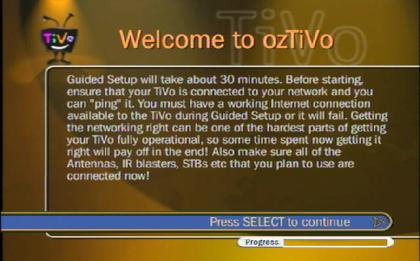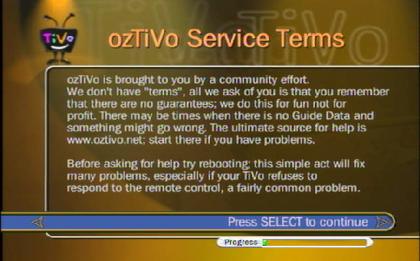 When you boot your OzTiVo for the first time, it will come up in Maintenance Mode. The only time you should see Maintenance Mode is when you are doing Guided Setup, or when you need to change your Infrared (IR) device settings. Eventually you will see the ``Welcome to OzTiVo'' screen. Click on Select to get past this screen and the ``OzTiVo Service Terms'' screen.
Program Sources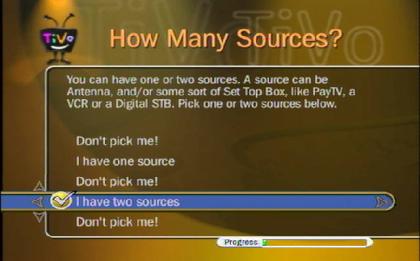 The OzTiVo allows you to have one or two sources of video input, e.g. your Antenna (i.e. the tuner), a Cable box, a Digital STB, a Satellite box or a VCR. If you have had your OzTiVo's hardware modified to use the Antenna input, then it
must
be your first source of input.
A Note to Antenna + A/V Users
If you have a FTA tuner (i.e. an Antenna connection), but you also want to be able to record from your OzTiVo's composite video or S-video input, then you should do a 2-source Guided Setup. When you choose your second input, choose the one labelled ``
AV Input
''. You will later be able to select a Channel 0 channel which is your A/V channel.
A Note to VCR Users
If you are setting up a VCR, you are going to have to choose a lineup that allows you to receive FTA stations. You have two options. You can choose your region's Analog FTA (Antenna) lineup: this will give you channel numbers ranging from 2 to 70. Or you can choose your state's Digital FTA lineup: this will give you channel numbers ranging from 1 to 10. Regardless, you will need to set your VCR up so that it matches the channel numbering on the OzTiVo. Alternatively the OzTiVo channel numbers can be changed to match your VCR channel numbering by following the instructions at
ChangeChannelNumber
.
Postcode and Area Code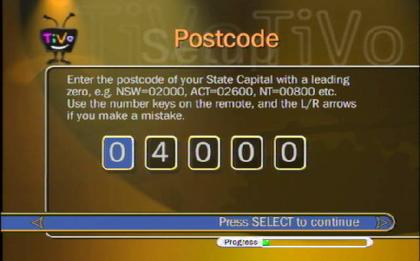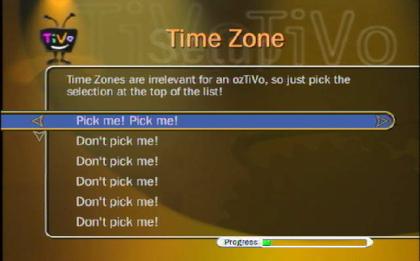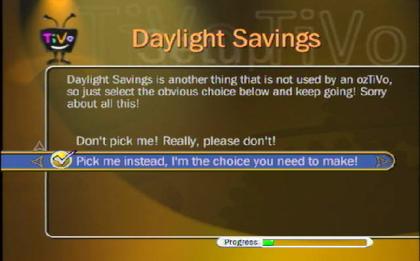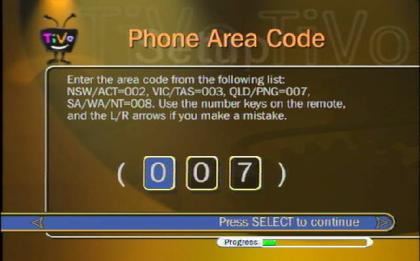 The Postcode determines what Free to Air, Cable, Digital and Satellite lineups you can receive. These are all done on a state basis, so choose the Postcode and Area Code from the following table:
State
Postcode
Area Code
ACT
02600
002
NSW
02000
002
Norfolk Is
02899
002
Vic
03000
003
Qld
04000
007
PNG
04000
007
SA
05000
008
WA
06000
008
Tas
07000
003
NT
00800
008
Follow the on-screen instructions to skip past the TimeZone and Daylight Saving settings; these are used by U.S OzTiVos, but not by OzTiVos.
The First `Phone Home'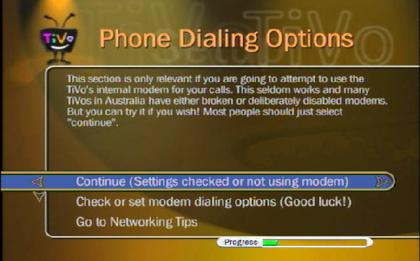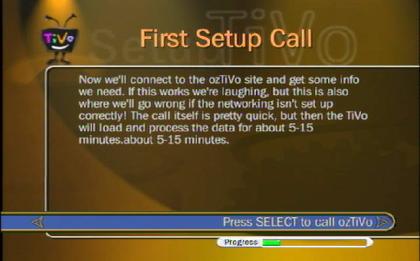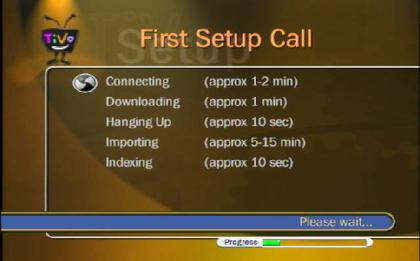 At this point, your OzTiVo needs to ``phone home'' to the OzTiVo Emulator to find out what Free to Air, Cable, Digital and Satellite lineups exist for your state. Your network should already be configured, so you can continue past the Phone Dialling Options and perform the Setup Call. It will typically take 20 minutes to import the data from the Emulator, so now is a good time to have a cup of coffee. If the call to the Emulator fails, then there is some network problem. You should try the diagnostics described at the bottom of
NetworkingHowto
to help determine the problem. If these show no problems, you may have a web proxy problem; see
GuidedSetupFailsISPProxyIssue
for details of the problem and how to solve it.
The Dial-in Number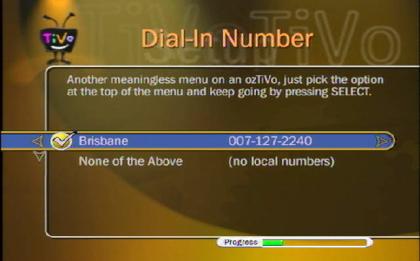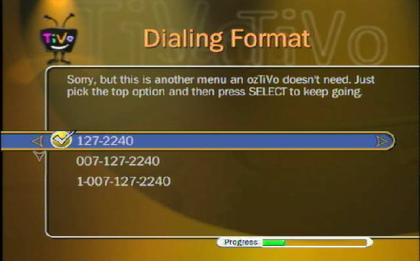 At this point you are given the opportunity to change your dial-in number. Again, your network should already be configured, so you can continue past this part of the Guided Setup.
Choosing Your Second Input Source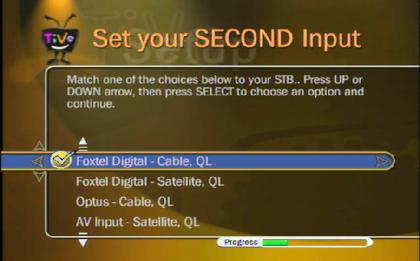 If you cose to do a 2-input setup, then you will now be shown a screen asking you to choose your second input source. Remember:
This is your second input source, and is always going to be an external device such as a Cable box, a Digital STB, a Satellite box or a VCR.
It is NOT going to be your Antenna source.
The list will include all Cable and Satellite providers for your state, as well as Digital Free to Air for your state. Choose the provider that you want. The description of the providers will be as follows: the ending is 2 letters describing the state: AC, NS, VI, QL, SA, WA, TA or NT. The middle section describes the OzTiVo source type: Antenna (i.e. Analog free to air TV), Cable, Satellite or Digital (Digital means Digital free to air TV). The beginning describes the provider, and will be one of:
``State'' FTA (used for Digital TV only),
``Region'' Analog FTA,
``Company'' (for either cable or satellite providers), or
``Company'' Digital (for either cable or satellite digital providers) The screenshot above, and the first input screenshot below give some examples.
Choosing Your First Input Source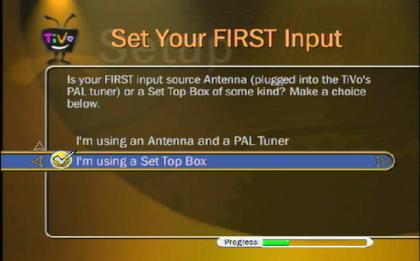 Now you get to choose your first input source. If this source is your Antenna, then you
must
choose ``Antenna and a PAL Tuner'', so that your input comes from the tuner module. If this source will be an external box connected to the OzTiVo by S/Video or by Composite video, then you
must
choose ``Set Top Box''.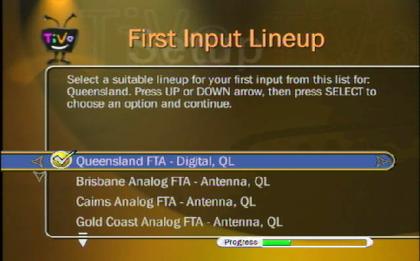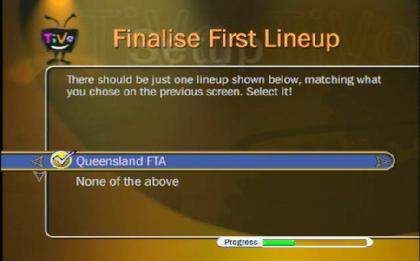 Now you will see a list of providers for your first source of input. The list will include all Cable and Satellite providers for your state, as well as Digital Free to Air for your state, and Analog Free to Air lineups for the various regions within the state. Choose the provider that you want. There should be only one option on the second screen, so choose it and move on.
Channels You Receive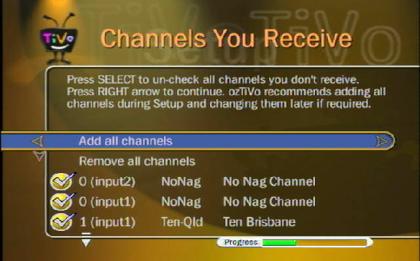 You now are given a list of channels that you might be able to receive. If you know which ones you do not receive, then follow the instructions and deselect them. If you are not sure, simple select
Add all Channels
now. Regardless of what you choose here, you can modify this list later. Note that the list will also show you the source of the channel: (input1) is your first input source and (input2) is the second input source.
Connections to Recorder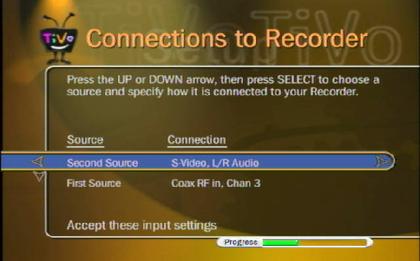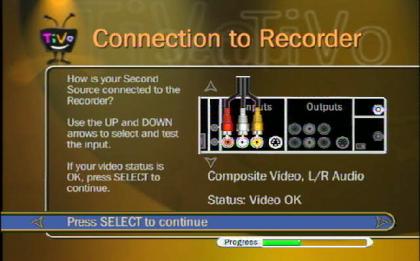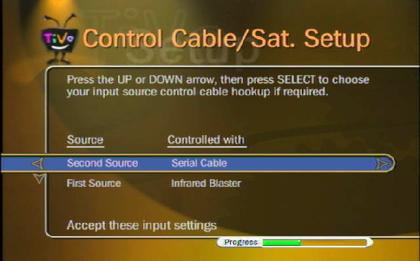 At this point, you need to choose how your video sources are connected to your OzTiVo. If you only have one input source, then use the right arrow on ``First Source'' to choose the connection: S/Video or Composite Video. If you have two input sources, then use the right arrow on ``Second Source'' and do the same thing. In order to continue Guided Setup at this point, you need to ensure that your video sources are correctly connected to your OzTiVo and supplying video signals. It is important that you see
Status: Video OK
on the second screen, as later on the Guided Setup will fail if there is no video input from your external video sources. When you have your input connection(s) set correctly, go down to
Accept these input settings
and move to the next screen.
Setting Up Your Infrared Controller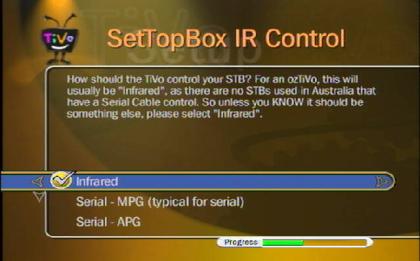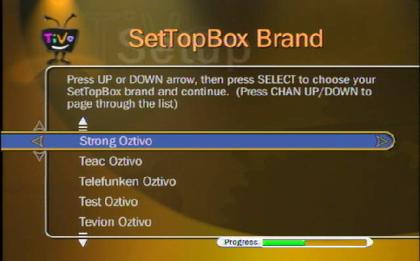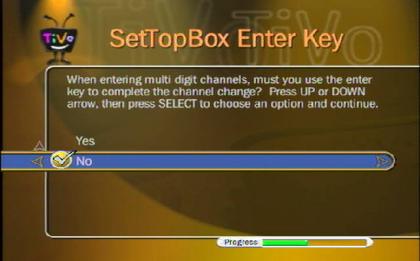 If you have an external device which is providing video to the OzTiVo (a Cable box, a Digital STB, a Satellite box or a VCR), then you will now be presented with menus to configure how the OzTiVo sends infrared commands to this device. Choose Infrared on the first screen, then choose the manufacturer of your device on the second screen. Make sure that you choose an OzTiVo manufacturer. On the third screen, follow the instructions to configure the Enter key; the usual answer here is No.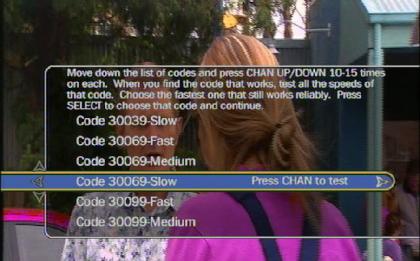 At this point you will be presented with a screen listing a number of specific device codes. Each code represents a certain device, and you can choose if the OzTiVo sends the IR commands at fast, medium or slow speed. Unfortunately, the name of each device is not shown. You can look up the device you want in the OzTiVo IR Database shown below to find the code for your device. Note that there are several different versions for some devices, so you should try each one until you get a successful result.
Manufacturer
Device Name
Code
Type
ADB
ABQ-3Q76
30095
Cable
ADB
HDT-HSS-760A
30148
Cable
ADB
Legend lstb2
30107
Cable
ADB
Noganet 2005
30104
Cable
AWA
AWA DT2030
30152
Cable
AWA
STB232
30120
Digital
Akai
Microyal MRX-1200
30067
Satellite
Akai
STB
30088
Digital
Akai
VS-F280
30058
VCR
Akai
VS-G2160
30063
VCR
Akai
VS-G765
30066
VCR
Austar
ADB Atlas
30017
Satellite
Austar
ADB Omega
30016
Satellite
Bush
DFTA10HD
30125
Digital
Bush
DFTA15HD
30159
Digital
Bush
DFTA16HD
30162
Digital
Bush
DFTA1A
30154
Digital
Bush
DFTA5
30118
Digital
Coship
2300B
30098
Cable
DGTECH
2000A
30007
Digital
DGTECH
DG-HD3800
30124
Digital
DGTECH
DG-HD5210
30147
Digital
DGTECH
DG-SD2401
30143
Digital
DGTECH
DG-SD3401
30149
Digital
DGTECH
DG-T100SD
30102
Digital
DGTECH
DG-T80SD
30080
Digital
DGTECH
DG-T90SD
30085
Digital
DGTECH
DG-T99SD
30113
Cable
DGTECH
GH5930
30163
Digital
DSE
G7503
30146
Digital
DSE
G7654
30008
Digital
DSE
G7659
30056
Digital
Digicrystal
Digicrystal 9500
30139
Digital
Digicrystal
HDT-9500
30142
Digital
DishTV
T1020
30161
Cable
DreamBox
DM500
30131
Satellite
DreamBox
DM500s
30137
Satellite
DreamBox
Dreambox DM500S (china)
30151
Satellite
DreamBox
Unknown
30126
Satellite
Ellies_Jonsa
RFAIDT
30093
Digital
Foxtel
DS420NF
30055
Satellite
Foxtel
DSD 720 iX
30033
Satellite
Foxtel
DxD1000
30057
Cable
Foxtel
STU100
30018
Cable
Foxtel
STU120
30019
Cable
Foxtel
STU200 V1
30020
Cable
Foxtel
STU200 V2
30021
Cable
Foxtel
STU420
30046
Cable
Foxtel
STU660
30025
Satellite
Foxtel
STU700
30001
Cable
Foxtel
STU720 V1
30012
Cable
Foxtel
STU720 V2
30011
Cable
Foxtel
STU720 V3
30045
Satellite
Grundig
Unknown
30005
VCR
Hailo
HDSTB8000
30140
Digital
Hills
HSM075
30132
Satellite
Hitachi
FX868E
30036
VCR
Hotchip
TRD3120
30032
Digital
Humax
5400Z
30006
Satellite
Humax
CX-FOX C II
30119
Cable
Humax
F2-1010T
30031
Digital
Humax
iVPR 9200C
30114
Cable
JVC
HR-J665EA
30047
VCR
Kaon
200
30029
Digital
Kogan
KoganHDSTBPVR
30160
Digital
Kross
TSK-530STB
30078
Digital
LG
AF993W
30009
VCR
LG
LST-5100P
30109
Digital
LG
V782NWK
30059
VCR
Legend
LSTB2
30110
Digital
MTV
MSTB767
30105
Digital
Mitsubishi
HS-851V
30064
VCR
Mitsubishi
HS-E20
30076
VCR
Motorola
DTH325-4
30092
Cable
Motorola
DVi4000
30083
Cable
Motorola
Streamaster5000
30028
Cable
NEC
NEC NHD2000
30094
Digital
NEC
NEC1066VCR
30049
VCR
NEC
VHG-106
30022
VCR
Okano
OkanoSTB1000
30145
Digital
Olin
HVBT1800/2000
30134
Digital
Opentel
ODT3000F
30081
Digital
Other
Comag PVR 2/100 CI
30141
Satellite
Other
Digitel 1000
30135
Digital
Other
WS-CA7886
30155
Satellite
Panasonic
NV-FJ620
30052
VCR
Panasonic
NV-FJ630
30041
VCR
Panasonic
NV-HD620
30024
VCR
Panasonic
TC20A
30086
Digital
Panasonic
TU HDT104A
30123
Digital
Panasonic
TUHDT105A
30111
Digital
Panasonic
Unknown
30003
VCR
Panasonic
nv-sd280ea
30074
VCR
Philips
VR 730
30082
VCR
Philips
VR656-75r
30044
VCR
Samsung
DCB-9401R
30062
Cable
Samsung
DTB-9401F
30037
Digital
Samsung
DTB-D700F
30090
Digital
Samsung
SV-DVD54T
30071
Digital
Samsung
SV600
30010
VCR
Sansui
SAN0737
30121
Digital
Sanyo
VHR-830
30042
VCR
Sharp
VC320E
30084
VCR
Soniq
DVB16-QMD200
30150
Digital
Soniq
QMD201B
30144
Digital
Sony
SLV-815
30035
VCR
Sony
Unknown
30004
VCR
Strong
SRT 4652
30112
Satellite
Strong
SRT 5011
30156
Digital
Strong
SRT-5022
30115
Digital
Strong
SRT-5066
30130
Digital
Strong
SRT-5066
30129
Digital
Strong
SRT4300
30157
Satellite
Strong
SRT5000
30069
Digital
Strong
SRT5200
30039
Digital
Strong
SRT5300
30026
Digital
Strong
SRT5406
30153
Digital
Teac
6010g
30060
VCR
Teac
850
30015
Digital
Teac
DV-B200
30043
Digital
Teac
DV-B300
30014
Digital
Teac
DV-B350
30054
Digital
Teac
DV-B400
30030
Digital
Teac
DV-B400 V2
30040
Digital
Teac
DV-B420
30048
Digital
Teac
HDB840
30136
Digital
Teac
HDB848
30158
Digital
Teac
ITV-D500
30023
VCR
Teac
MV-6000
30068
VCR
Teac
SDB440
30106
Digital
Telefunken
TDR986
30101
Digital
Tevion
MD-29005
30075
Digital
Tevion
TEV8200
30127
Digital
Thomson
DTI352
30002
Digital
Thomson
DTI352 V2
30038
Digital
Thomson
DTI500AU
30065
Digital
Thomson
DXD506RD
30089
Satellite
Topfield
TF4000T
30079
Digital
Toshiba
HD-S23A
30027
Digital
Transact
i3 Micro
30051
Cable
Winfast
TV2000XP
30133
Digital
Wintel
DigiCrystal 8800
30070
Digital
Wintel
Digicrystal DSD1
30116
Digital
Wintel
STB1SD
30138
Digital
Wintel
Supernet
30087
Digital
Wintel
Win1x
30034
Digital
Wintel
Wintel 1x
30053
Digital
Wintel
digicrystal 8800
30077
Digital
Yess
DVB-T1288
30072
Digital
Zenith
PA 21
30061
Cable
Zenith
SkyNZ
30091
Cable
The Second `Phone Home'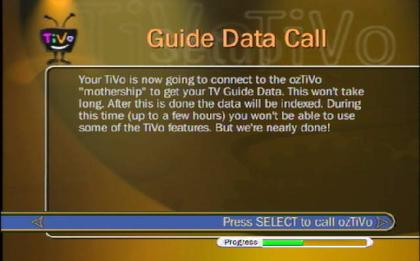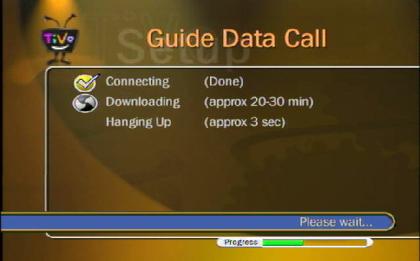 Once you have configured the IR settings for your external device, the OzTiVo needs to perform a second ``phone home'' to download any TV guide data that is available. This should only take a few minutes. If this ``phone home'' fails but the earlier ``phone home'' worked, then this usually indicates a web proxy problem at your ISP. See
GuidedSetupFailsISPProxyIssue
for details of the problem and how to solve it.
Final Guided Setup Steps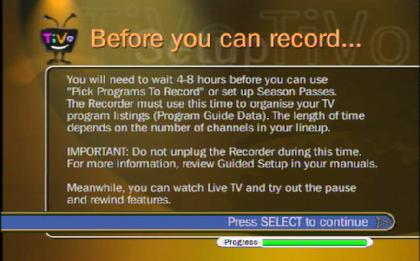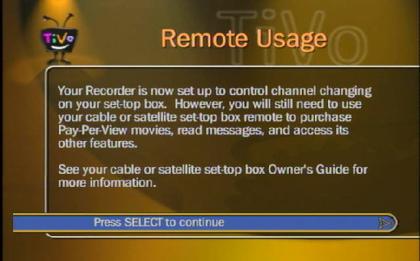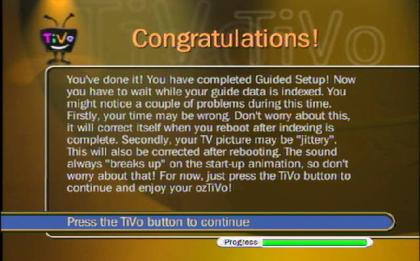 The last few steps of the Guided Setup are shown above. When its says it will take 4 to 8 hours before the TV guide becomes available, they mean it! You need to leave your OzTiVo on during this period for the indexing to complete. It should take no longer than 24 hours depending on how many channels it has to index. Unfortunately, the OzTiVo is still in Maintenance Mode at this point, and one of the problems with this mode is that video playback is very jerky: in fact, we often call this ``Jitter Mode'' instead of Maintenance Mode. You have to put up with this until the indexing is complete; then you can reboot the OzTiVo to get it out of Maintenance Mode. While in Maintenance Mode, your OzTiVo may also display the wrong on-screen time.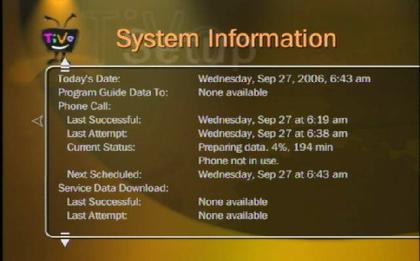 If you start on the OzTiVo Central Menu, and navigate down to `Messages & Setup' then `System Information', and scroll down a page (using the Chan Down button), you will see a ``Preparing data'' message and a percentage. Once the percentage reaches 100%, and the "Last Status'' shows "Succeeded''. then indexing has completed. For those with some Linux skills, you can tell when the OzTiVo has completed guide indexing by looking in /var/log/tvlog for text along the lines of:
Mar 3 08:05:38 (none) DbGc?[127]: Sweep done (eSucceeded) - rescheduling marking in 61200 sec 
After Guided Setup - Selecting Channels
If during the channel selection you chose to add all the channels (or if you want to modify the channels you receive), then the first thing you should do is go into
Watch Live TV
and see what channels you do receive. The screenshot above shows you what you will see when you use the
Chan Up
or
Chan Down
buttons when watching live TV. Note that the top-right corner of the on-screen display shows the channel name and number. Go through all the channels and find out which ones you can receive and which ones you can't. Don't be too hasty; give the OzTiVo 3 to 5 seconds on each channel before you decide you cannot receive it. Write down a list of the channels you can receive. Once you have determined the list of available channels, follow this menu path to get to the next setup screen:
OzTiVo Central -> Messages and Setup -> My Preferences -> Customize Channels -> Channels You Receive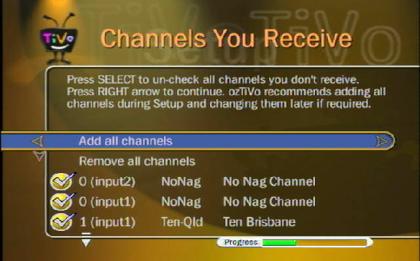 Follow the instructions to keep the channels you receive and to remove the ones that you don't receive. Remove the NoNag channel (
WhatIsThisNonagChannel
), as this is only included to stop your OzTiVo from nagging you about missing TV guide data. As long as it is in the list (even unselected) it will stop the nag messages.
Reboot to Leave Maintenance Mode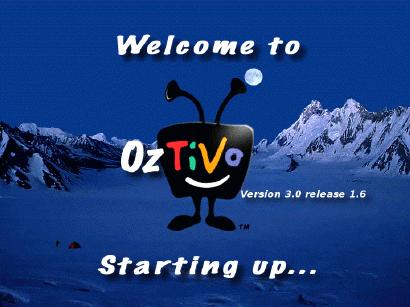 Once the guide data has been indexed for between 4 and 8 hours, to a maximum of 24 hours, It would now be a good time to set a couple of shows to record on your OzTiVo. We use a program called endpad to automatically add extra time at both the begining and the end of shows (if it does not conflict with other recordings) so you don't miss out on shows that are running early/late. for this program to work, you need to have at least a couple of shows in your todo list or else it will shut down. So at this point it has probably already shut down, but when you reboot it should now also come to life. You can finally reboot your OzTiVo to leave Maintenance Mode (you can also reboot easily from the Messages & Setup > System Reset > Restart the Recorder screen on the
TiVo
itself or just pull the power). You should see the above startup screen if the reboot is successful. If you see the Maintenance Mode startup screen, don't panic. Just let the OzTiVo finish rebooting, turn it off, and try again. It can sometimes take 4 or 5 reboots before the OzTiVo finally leaves Maintence Mode. You now have a working OzTiVo to enjoy! If you have never used a OzTiVo before, or if you want to find out about the extra software installed on this OzTiVo image, then read through the
UserManual16
document.
Keeping A 1.6 Image Up To Date
The OzTiVo 1.6 Install image contains a script called
update_oztivo
, which will connect to the Emulator, determine what files need to updated on your OzTiVo, and download & install them. You can run this script from the command-line via a Telnet connection. If you choose to do this, then start by running it with no options, e.g.:

update_oztivo

This tells the command to print out the list of files to change, but not actually download them. We recommend that you run
update_oztivo
like this the first time, so that you can see what changes will occur. If you are happy with the listed changes, you can then re-run
update_oztivo
with the
-y
option to actually perform the upgrade. Note that the update process will
never
delete a file on your system; it will add new files or update existing files only. If you have hand-tweaked your OzTiVo's files, you may want to stop certain files from being altered by the update process. To do this, create a text file called
/etc/update_exclude
with the full pathname of each file to exclude on its own line, i.e. each filename must start with a slash "/". Also check
ExcludeFilesFromUpdate
for more details. If you haven't made any changes to your OzTiVo, and you don't like the command line, you can also run the upgrade script using a trickey key combination on your OzTiVo's remote. To avoid and posible issues with pressing these buttons, it's best to do it from live tv. so first press the Live TV buutton, then press clear, 9, 2 clear. This will run the Update script and tell you to press clear when completed. There are lots of other cool tricks tricky can do, have a look at
TrickeySoftwareExamples
for a current list. Updates to 1.6 OzTiVos can be done fairly safely, as the files made available will have been tested, or won't affect the booting and ordinary operation of your box. If there are any problems, then the image maintainers will fix the files, and then you can re-run
update_oztivo -y
to upgrade your OzTiVo again.
We suggest running update_oztivo either from the command line or the trickey remote sequence: 'Clear, 9, 2, Clear' once you are at this stage of the guided setup. This will install any new versions and patches since the last ISO image was made. If you run into problems downloading the update, make sure you have port 873 open on your firewall/router

Also as suggested earlier in this guide make sure you read though the KnownIssuesCurrentImageRelease document which covers any known issues since the last image and updates were made.
Some of the Most Common Problems/Issues New Tivo Owners Ask About
Firstly make sure you have waited 24 hours before playing with your new toy. It usually takes this long for the OzTiVo to set itself up. Some of the problems that may be encountered if you did not wait 24 hours:
When I try to access "Pick programs to record" from Tivo Central, a black box appears saying "currently optimising program data, this will be available 4-8 hours from now".
If I try to schedule a recording, in the "season pass and other options" try to view "upcoming episodes" I am told "there are no upcoming episodes".
when I try to access certain areas of tivoweb, like "Now Showing" or "Deleted Shows" all I get is an error message.
Also refer to the
ProblemsAndSolutions
document. Also as standard on our OzTiVo's we have extra software called EndPadPlus installed this software will automatically add 5 minute to the start and 15 minutes to the end of each show recorded. This extra time will only be added if it does not conflict with another show. If you have any other problems make sure you have a read of the
FAQ
and the
Hintsortips
sections of the website. Also make use of the search features of both the website and Mailing list, as chances are the problem has already come up before. If you have tried all of the above and still cannot resolve the problem then post all the details to the mailing list and someone there may be able to help you. But as a
Warning:
if you post a question that is clearly already answered on the site or mailing list archive, you may receive a hostile response from people sick of answering the same questions over and over again because the new owner was too lazy to search for an answer first. We are a friendly bunch, just show that you have made some effort to search for yourself before ask on the mailing list.
Back to:
Install
--
WarrenToomey
- 27 Sep 2006